By Christopher J. Naum, SFPE on Apr 05, 2020 with Comments 0
A Fire Officer's Guide for Today's Buildings on Fire On-Line Short Version Webinar Program
Building Sciences, Construction Technology & Fire Operations Series
Today's fireground, buildings and occupancies present increasing challenges that have redefined strategic and tactical fireground operations and impact these operations on a wide variety of levels that often include adverse compartment fire conditions, structural compromise, collapse and predicable building performance. Presenting insights on building construction for today's fire service, the primary objective of this program is to increase awareness and understandings of a model approach to building construction, architecture, engineering and design that directly impact firefighting and command operations at structure fires. A discussion on the correlation of Building Construction Systems, Occupancy Risks, Collapse & Compromise Characteristics, Methods & Materials, Design and Fire Dynamics related to building anatomy will be presented.
Two Program Offerings – (all times are Eastern Time Zone)
Saturday April 11, 2020 1:00pm EDT – 3:30pm
Registration: https://zoom.us/webinar/register/WN_309nE2rPRLSSkCY5mbtimg
Tuesday April 14, 2020 7:00pm EDT – 9:30pm
Registration: https://zoom.us/webinar/register/WN_1O2Z1d_hQp6QknsgN_2kEA
ZOOM Free Webinar Platform Required, Download before program https://zoom.us/
Presented by;
Christopher J. Naum, SFPE
Chief of Operations & Training
Command Institute, Center for Fireground Leadership
Technical Consultant, NIOSH Firefighter Fatality Investigation Program
Fire Protection Management, Leadership & Safety Consultant
A 44-year fire service veteran and a highly regarded national and international instructor, author, lecturer and fire officer, a distinguished authority on building construction sciences affecting fireground operations, command and tactics, he has traveled extensively throughout the USA and globally delivering training programs on building construction & architecture sciences and firefighting, fireground leadership, command management and operational safety. Additionally, he has over twenty years of direct experience in Behavioral Based Safety Program management, Human Performance (HU), Operating Experience within the High Risk-High Consequence Nuclear Generating industry.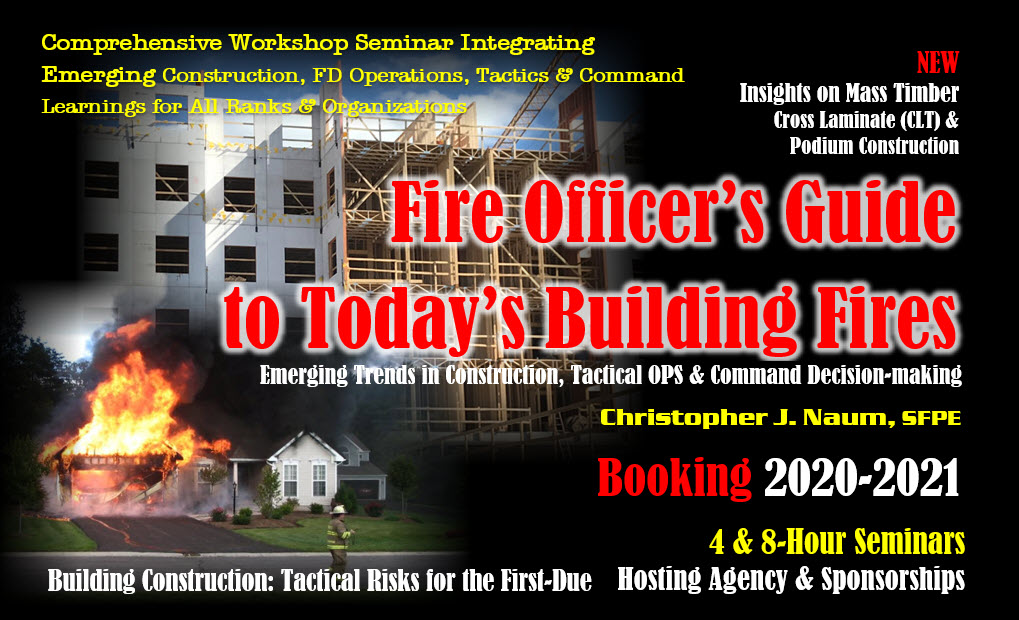 Filed Under: Uncategorized
Comments (0)