By Christopher J. Naum, SFPE on Sep 10, 2012 with Comments 0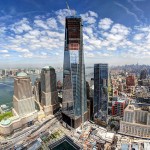 To commemorate the anniversary of 9/11, NOVA presented  an epic story of engineering, innovation, and the perseverance of the human spirit. With extraordinary access granted by The Port Authority of New York and New Jersey, "Engineering Ground Zero" follows the five-year construction of One World Trade Center (1 WTC) and the National September 11 Memorial & Museum. This is an encore presentation originally aired on 09/07/2011.
NOVA captures the behind-the-scenes struggle of architects and engineers to make the buildings safe and highly secure under the pressures of a tight schedule, the demands of practical office space and efficient "green" architecture, and the public's expectations of a fitting site for national remembrance. The program features interviews with 1 WTC architect David Childs; Chris Ward, the Port Authority's executive director; Mayor Michael Bloomberg, chairman of the 9/11 Memorial Foundation; and Michael Arad, the man behind the breakthrough concept for the 9/11 Memorial.
 
Watch the Program
Watch the entire program online now.
Reflections on the 9/11 Memorial
Visitors to the 9/11 Memorial share their impressions.
Filed Under: Anatomy of Buildings • Architectural Technology • Buildings • Featured • Structural Systems
Comments (0)
Leave a Reply
You must be logged in to post a comment.