By Christopher J. Naum, SFPE on Feb 25, 2012 with Comments 0
Residential Fire in Prince George's County (MD) Injures Seven Firefighters: Wind Driven Conditions Suspected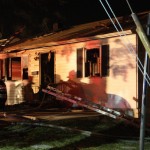 Apparent wind driven condition contributed to rapidly escalating fire conditions resulting in extreme fire behavior during initial fire suppression operations being coordinated at a single family residential dwelling (SFD) fire Friday night February 24th in Riverdale, MD. At 9:11 p.m. firefighters responded to a house fire in the 6404 57th Avenue, according to published reports and the new release from Prince George's County (MD) Firefighters.
PGFD companies arrived to find a one-story with basement, single-family home with fire on both levels. A review of public records indicates the SFD was built in 1967 of dimensioned wood frame construction consisting of a single story with a full basement with 780 square feet of occupied floor space. The house foot print was approximately 30 feet x 26 feet and had a low profile gable roof. A review of building (birdseye view) aerial images suggests that a moderate grade change from the Alpha division to the Charlie division is apparent with walk-in basement access.
Firefighters initiated an interior attack from the Alpha Division when an apparent sudden rush of air fanned by high winds entered from the rear of the house (Delta Division), either from a door or window being opened or broken out, the news release said.
The rapid influx of air from the sustained winds into the interior room compartments combined with the already progressing fire conditions creating a "fire ball' within the structure's interior rooms where companies were operating engulfing the firefighters. Firefighters tried to escape and commanders immediately called for an EMS Task Force and Fire Task Force.
A review of internet published archival weather data for the general area (Riverdale/College Park, MD) during the period of 20:55 hrs. and 21:15 hrs., recorded wind speeds of 13.8 – 20.7 MPH with wind gusts of 27.6 – 36.8 MPH. gusts of MPH. (wunderground.com HERE)
At this time two firefighters, Bladensburg Volunteer Fire Fighters Ethan Sorrell and Kevin O'Toole remain in critical condition at Washington Hospital Center. A third fire fighter, Riverdale Volunteer, Michael McLary also remains hospitalized for injuries. Four other injured fire fighters, three from Riverdale and one from College Park, were released and sent home last night according to the latest reports.
Other Media Links:
For more insights and information on Wind Driven Fire Conditions, incidents, research and lessons learned, here are a few mission critical links;
Prince William County (VA) Fire Rescue Kyle Wilson LODD Report-Remembrance and Learning's HERE
Filed Under: BuildingsonFire • Combat Fire Engagement • Featured
Comments (0)
Leave a Reply
You must be logged in to post a comment.