By Christopher J. Naum, SFPE on Jun 08, 2011 with Comments 0
UK Firefighter Narrowly Escapes Wall Collapse
Collapse captured on dash cam shows Greater Manchester (UK) Fire and Rescue Service close call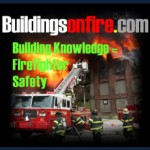 This was recently posted on Firefighternation.com and depicts a a video clip that captures a dramatic near miss of a colleague who could have been killed when a house collapsed today released footage of the incident. Greater Manchester Fire and Rescue Service said the incident in Littleborough, Rochdale, in September 2010 was being released as part of health and safety training for its staff and other fire and rescue services in the UK.
The dramatic footage, caught by a CCTV camera on a fire engine attending the scene, shows a fire fighter narrowly escaping death or serious injury as the front of a derelict terrace house collapsed, almost on top of him. The firefighter seems hardly fazed by the close call.
County Fire Officer and Chief Executive Steve McGuirk said the footage provided terrifying viewing for the service, who would use it as a training example to ensure crew were more aware of the dangers.
He added: "The footage is unbelievable. Our crew and the police are diligently attending this incident, where a derelict property is on fire. But who could have predicted the front of the house would collapse in this way. It is frighteningly close and this fire fighter could so easily have been killed. It's a powerful example of how our fire fighters put themselves at risk each and every day to keep people across Greater Manchester safe."
The footage will now form part of the service's operational assurance processes and used to make fire fighters aware of the potential risks of similar incidents.
Greater Manchester Fire and Rescue Service has 41 stations across the 10 boroughs of the county and attended approximately 50,000 incidents involving fire and collisions on roads and motorways, and other emergencies, last year.
Greater Manchester Fire and Rescue Services Link HERE
Filed Under: Anatomy of Buildings • The Collapse Zone
Comments (0)
Leave a Reply
You must be logged in to post a comment.