By Christopher J. Naum, SFPE on Jun 28, 2011 with Comments 0
Published reports are being stating that the least senior of three construction officials in the Deutsche Bank manslaughter trial was acquitted of all charges today — after telling jurors that he had no idea the giant pipe he helped remove from the basement had anything to do with providing water to firefighters.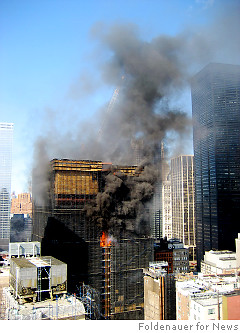 A construction foreman charged with the deaths of two firefighters in the Deutsche Bank building blaze was acquitted of all charges. Salvatore DePaola was cleared by a Manhattan jury of manslaughter and criminally negligent homicide on the eighth day of deliberations.
According to reports published in a number of NYC newspapers; "It's a happy day and a sad day," said DePaola. "We've still got two firefighters that are deceased." Firefighters Robert Beddia, 33, and Joe Graffagnino, 53 perished after they raced into the burning Ground Zero tower in 2007.
Prosecutors argued that DePaola, who works for the John Galt Corporation, and two of his colleagues should have known a key firefighting pipe had been cut. Salvatore DePaola, 56, of Staten Island, broke into tears as he was found not guilty of manslaughter and reckless endangerment charges in the August, 2007, smoke inhalation deaths of firefighters Robert Beddia and Joseph Graffagnino.
"I had no idea it was a standpipe," DePaola insisted of the primary physical evidence in the case — a 42-foot section of pipe that all three defendants were accused of intentionally disregarding and discarding after it crashed to the ground from the basement ceiling nine months before the fire.
The jury is still deliberating in the case of DePaola's colleague, site safety manager Jeffrey Melofchik.
AP Photo Deutsche Bank office building Fire in New York
Jurors have yet to reach a verdict on identical manslaughter and endangerment charges against their remaining defendant, Jeffrey Melofchik, 48, who worked as site safety manager for the demolition's general contractor, Bovis Lend Lease. They will continue their deliberations tomorrow.
A third defendant, project asbestos abatement director, Mitchel Alvo, 58, has opted for a non-jury verdict; Manhattan Supreme Court Justice Rena Uviller has not said when she will render that decision.
As to who he thought should have been prosecuted in the defendants' stead, De Paola — whose own son is a firefighter at Engine 160 in Staten Island — made a reference to "lieutenants" with the FDNY before his lawyer advised him to remain silent on that issue, given that deliberations are continuing.
Today was the seventh full day of deliberations in the three-month-long trial.
Previous CommandSafety.com coverage:
The Complete NIOSH Report is available HERE
An excellent Training and Awareness PDF file of the PPT program on Operational Safety and Awareness at Deonstruction and Demolition Sites Structural Anatomy Safety OPS at Demo Sites
New York Times Photos of Deutsche Bank Deconstruction Work, HERE
Other References and postings;
Filed Under: Structural Renovation & Deconstruction
Comments (0)
Leave a Reply
You must be logged in to post a comment.