By Christopher J. Naum, SFPE on Dec 22, 2020 with Comments 0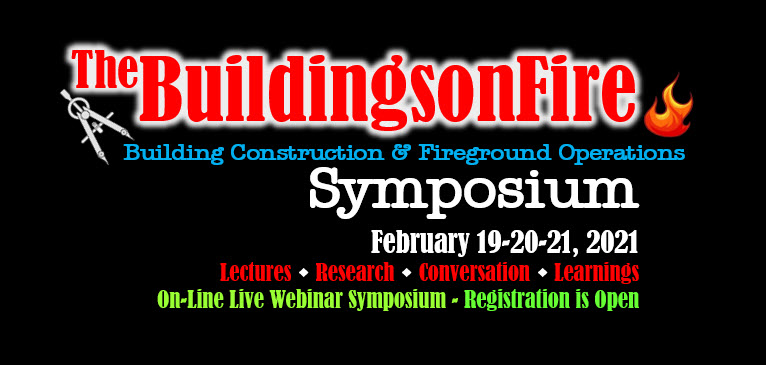 The Buildingsonfire Symposium on Building Construction and Fireground Operations
An Online Live Webinar Symposium for Today's Demanding Fireground
February 19-20-21, 2021
NEW DATES, Updated Registration and FD Group Rates
Lectures | Research | Conversation | Learnings | National Faculty
An Online Symposium, spanning Two plus Days Dedicated entirely to Building Construction and Operational Issues for Today's Demanding Fireground. The Symposium will be hosted and facilitated by fire service veteran Christopher Naum, a highly regarded national and international instructor, author, lecturer and fire officer, with a notable faculty cadre of highly respected national fire service commanders, officers, instructors, professional fire protection engineers, educators and industry advocates presenting leading edge insights and perspectives addressing some of the most important functional areas on the Fireground; Understanding the Building, The Fire and Company Engagement.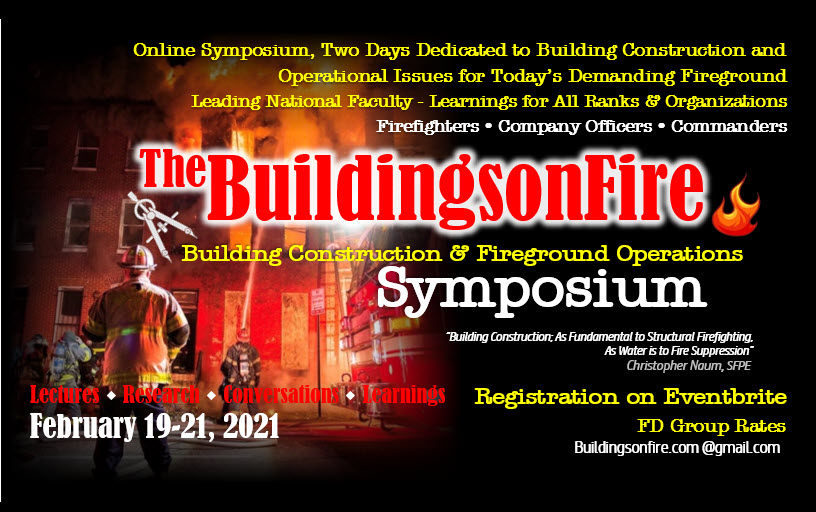 Registration is Open;
https://www.eventbrite.com/e/the-buildingsonfire-symposium-on-buildings-fireground-operations-registration-133811314243
Symposium Agenda                   February 19-20-21, 2021
Friday                 Feb. 19                 Pre-conference Panel Discussions 7:00 pm – 9:00 pm ET
Saturday           Feb. 20                 Symposium Convenes  8:00 am
Morning Sessions 8:00 am – 12:00 noon
Lunch Break 12:00 noon – 1:00 pm
Afternoon Sessions 1:00 pm – 5:15 pm
Dinner Break 5:15 pm – 7:00 pm
Evening Panel Session 7:00 pm – 9:15 pm
                                                                Virtual Kitchen Table   9:05 pm – 10:00 pm
Sunday               Feb. 21                 Opening Remarks          8:00 am
Morning Sessions 8:00 am – 12:00 noon
Lunch Break 12:00 noon – 1:00 pm
                                                                Afternoon Sessions       1:00 pm – 5:15 pm
                                                                Symposium Concludes 5:30 pm
A preview of the Session Topics
Round Table Panel Discussion

Impact of Construction Trends: Brownstones to High Rise
The Small Foot Print Commercial Retail Occupancy Risks
Mega Mansions and Large Scale Residentials; The Atypical Residential Fire
Pop-Ups and Rowhouse, Row Frames- Old School Challenges for Today
The "New" Main Street: Buildings and OPS

Buildings on Fire: Predictability of Performance
When Buildings Change the Rules of the Game
Buildings; The Firefighters Battle Space
Reading the Smoke: Next Generation
Reading the Compartment and Fire
Reading the Building: FACTS
Insights on Basement Fires
Insights on Codes for Mass Timber Construction
Panel Presentation: Cased Studies of Complex Fires at Podium Occupancies

Poag Street Complex-Under Construction Fire – Fairfax, VA 02.08.20 (TBD)

The Virtual Kitchen Table (online Social)
Trends in Engineered Light Weight Construction: RES and MO
The New Type III Main Street- Renovations and Re-utilization
Sustainable and Fire Resilient (SAFR) Buildings
Building Knowledge: Company Preparedness and Engagement on Construction Sites
The North Colorado Street Fire Report (Philadelphia FD, PA): Insights and Lessons
Fire Protection Challenges in Small foot-print Commercial Buildings
Hazards of Converted Residences: Single to Multiple Occupancy
Insights on Concealed Space Fires in Buildings
Building Construction Round Table

Construction Trends and Old School Firefighting Methodologies

The Impact of Mass Timber & CLT Construction
Influence of R&D on Future Fire Operations
Challenges of Adaptive Reuse of Old Buildings
(Program and Topics subject to Change and Finalization)
The Final Full Schedule, Agenda and Program Sessions will be posted later in Early February prior to the Symposium.
Virtual Kitchen Table (Social)
Join us later in the evening Saturday night after the evening panel session for a Virtual Kitchen Table, with some of the Faculty for Q&A, talk and dialog just like TKT at our firehouse. SAT Feb 20 9:05 pm – 10:00 pm
Faculty
Deputy Chief Vinny Dunn, FDNY (ret)
Deputy Chief Anthony Avillo, North Hudson (NJ) Regional Fire & Rescue (ret)
Deputy Chief Vince Mulray, Philadelphia (PA) Fire Department
Chief Christopher J. Naum, SFPE, Command Institute (NY); NYPA, MCFD (ret). Symposium Executive Director, Host and Facilitator
Deputy Chief Phillip Jose, Seattle Fire Department (ret)
Fire Marshal Paul T. Dansbach, Fire Marshal, Past Fire Chief, Rutherford (NJ) Fire Department
Chief Douglas K. Cline, Horry County (SC) Fire and Rescue Department
Battalion Chief Danny Sheridan, FDNY
Brian Meacham, Ph.D., P.E., CEng, EUR ING, FIFireE, FSPFPE, Past Pres. SFPE, Principal Meacham Assoc. (MA)
Daniel Madrzykowski, Ph.D., P.E., FSFPE, UL Firefighter Safety Research Institute (UL FSRI)
Captain-Paramedic Mike Lopina, Lockport Township (IL) Fire Protection District (ret)
Battalion Chief Tony Carroll, District of Columbia (DC) Fire and EMS Department, Director ISFSI
Chief Greg Jakubowski, P.E., FSFPE, CSP, Lingohocken Fire Company (Bucks County, PA) Principal, Fire Planning Associates (PA)
Battalion Chief Andy Starnes, Charlotte (NC) Fire Department
Battalion Chief Brian Bastinelli, Harrisburg (PA) Bureau of Fire
Battalion Chief Lane Woolery, San Diego (CA) Fire and Rescue Department
District Chief Emmett "Pat" Nichols, Boston (MA) Fire Department (tentative) Instructor Bud Henkels, Montgomery County (PA) Fire Academy (former Firefighter)
Captain John Ceriello, FDNY, UL FSRI Advisory Board (tentative)
Chief John Schultz, Framingham (MA) Fire Department
Mr. Raymond "Ray" O'Brocki, ESQ, CBO, Manager- Fire Service Relations at American Wood Council American Wood Council; Deputy Chief/Fire Marshal Baltimore City (MD) Fire Department (ret)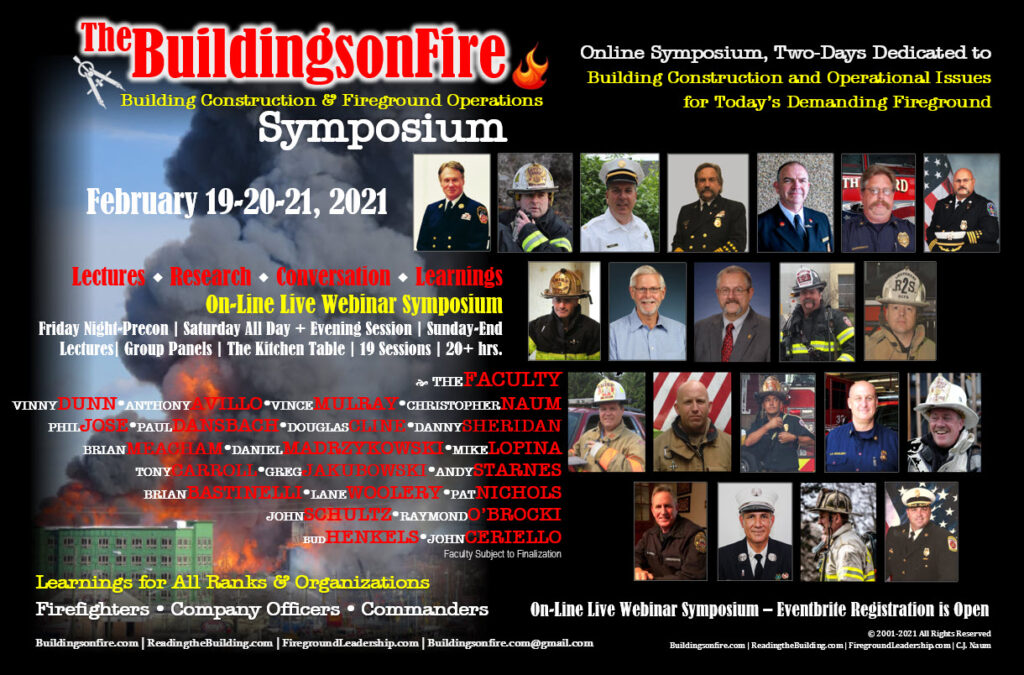 Join us
Join us for an Extraordinary Experience in these challenging times, with the most comprehensive and timely topics Dedicated entirely to Building Construction and Operational Issues for Today's Demanding Fireground, A cadre of highly respected national fire service leaders with insights gleaned from years of experience in the streets, the training ground, the research area and academia.
"Building Construction; As Fundamental to Structural Firefighting, as Water is to Fire Suppression" C.J. Naum
ZOOM Free Webinar Platform Required, Download before program https://zoom.us/
Password Protected Link to the Webinar will be forwarded after registration prior to the programs each day.
Certificates of Attendance will be available upon request. Please note that in order to receive this COA, periodic alerts will be transmitted during the sessions each day, that require a direct timely text reply by the participants.
A Buildingsonfire.com, ReadingtheBuilding.com and FiregroundLeadership.com Production
© 2001-2021 All Content Rights Reserved and Protected
Early Announcement – Save the Dates
Main Street Fire Operations Symposium
Two Days Dedicated to Building Construction and Operational Issues for Old School Hazards and Risks on Today's Fireground
Online Live Webinar – March 20-21, 2021; Registration Opens in late January 2021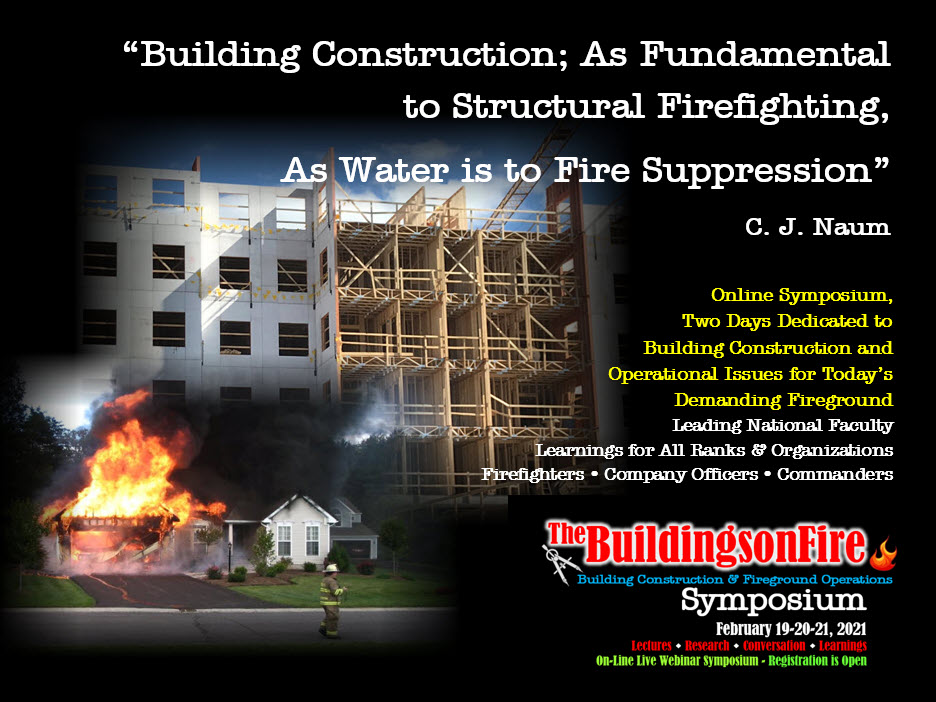 Filed Under: Uncategorized
Comments (0)