By Christopher J. Naum, SFPE on Dec 26, 2010 with Comments 0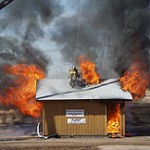 Four wood frame residential-like structures with different roof constructions were used in a series of fire tests conducted in cooperation with the Phoenix, AZ Fire Department. The roof construction was the primary difference between each structure: asphalt shingles and plywood, asphalt shingles and oriented strand board, cement tiles and plywood, or cement tiles and oriented strand board. Each structure contained an attic space and two furnished rooms: a living room and a bedroom.
Multiple fires were initiated in each structure to facilitate collapse. The fires were allowed to burn until the portion of the roof supporting two firefighter mannequins failed. Temperatures were measured at various locations in the structures. Peak temperatures obtained during the tests ranged from approximately 800 ºC (1500 ºF) to 1000 ºC (1800 ºF). The roof of each structure collapsed approximately 17 min after ignition.
Filed Under: Anatomy of Buildings • Research • Research Hub • The Collapse Zone
Comments (0)
Leave a Reply
You must be logged in to post a comment.