By Christopher J. Naum, SFPE on Jul 15, 2011 with Comments 0
The Federal Emergency Management Agency's (FEMA) United States Fire Administration (USFA) have recently issued a special report examining the characteristics and causes of Large Loss Building Fires (PDF, 834 Kb).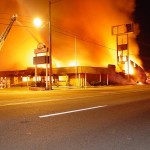 The report, developed by USFA's National Fire Data Center, is based on 2007 to 2009 data from the National Fire Incident Reporting System (NFIRS).
From 2007 to 2009, an estimated 900 large loss building fires were reported by U.S. fire departments annually.
These fires caused an estimated 35 deaths, 100 injuries, and $2.8 billion dollars in property damage.
In this report, large loss building fires are defined as fires that resulted in a total dollar loss of $1 million or more.
According to the report:
Forty-eight percent of large loss fires occur in residential buildings.
Exposures are the leading cause of large loss building fires at 22 percent, followed by electrical malfunctions (12 percent), other unintentional, careless actions (11 percent), and intentional (9 percent).
A peak in large loss building fires is seen between the hours of 1 a.m. and 4 a.m.
Attics are the primary origin of all large loss building fires, along with cooking areas or kitchens.
Large Loss Building Fires (PDF, 834 Kb) is part of the USFA's Topical Fire Report Series.
Topical reports explore facets of the U.S. fire problem as depicted through data collected in NFIRS. Each topical report briefly addresses the nature of the specific fire or fire-related topic, highlights important findings from the data, and may suggest other resources to consider for further information.
Also included are recent examples of fire incidents that demonstrate some of the issues addressed in the report or that put the report topic in context.
Examples
The following are some recent examples of large loss fires reported by the media:
October 2010: A fire in a Franklin, TN, home resulted in $2.5 million worth of damage. The cause of the fire is still unknown, but the fire began in a patio fireplace. The family of four present in the house at the time of the fire was able to escape safely. Four firefighters were injured while fighting the fire; two of them were treated at the scene and two were sent to the hospital for minor injuries.
June 2010: A Palo Alto, CA, two-alarm house fire caused between $1 and $2 million worth of damage. The family of four living in the house was awoken by their son when he heard the smoke alarm. The fire is believed to have been started by an unattended candle or cigarette the son left in a second-story room. The fire was brought under control in about 45 minutes and no deaths or injuries were reported.
June 2010: A fire that started in a Carmel, IN, shopping mall is believed to have been caused by lightning. Investigators have determined that the fire started in a restaurant located at the north end of the mall. There were no deaths or injuries as a result of the fire, but investigators estimate that the fire caused over $5 million worth of damage.
May 2009: A fire that started in a Gallery Furniture storage warehouse located in Houston, TX, resulted in at least $15 million worth of damage. Investigators have determined that the fire was caused by arson. Thirty to 40 employees were present when the fire broke out. The fire was determined to have been started in an area only accessible to employees. There were no injuries or deaths as a result of the fire.
Additional reports of interests include;
---
View more videos at: http://www.nbcdfw.com.
Filed Under: Research Hub
Comments (0)
Leave a Reply
You must be logged in to post a comment.