By Christopher J. Naum, SFPE on Feb 16, 2012 with Comments 0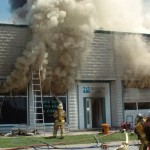 The New Rules of Combat Fire Engagement:
How do You Measure Your Effectiveness on the Fireground?
What are Your Rules of Engagement Based upon?
Are Your Operations SOP Driven? Are they Aggressive or Measured?
What is Employed in your Size-up?
How is Risk Assessed, Monitored, Adjusted?
Do Company Officers Manage Tactical Objectives?
Is Tactical Entertainment a Fundamental Part of OPS?
Occupancy Type driven Strategies?
Successes Drive Tactical Assignments?
Fire Suppression a Function of Hose Bed Capacity?
Staffing Equal to Strategic Formulas and Task Demands?
Filed Under: Adaptive Fireground Management • Featured • Predicative Strategy
Comments (0)
Leave a Reply
You must be logged in to post a comment.