By Christopher J. Naum, SFPE on Oct 29, 2011 with Comments 0
A three-story apartment building that was under construction caught fire on October 27, 2011 in the early evening in Carson, California (LA County). The rapidly advancing fire quickly ran through an apartment building under construction and spread to a nearby mobile home park damaging at least 10 homes and forcing evacuations, according to published reports. There were no reports of injuries.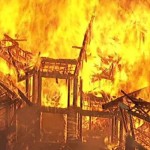 The flames engulfing the building in the 21828 South Avalon Boulevard turned into a 3-alarm fire shortly after 17:00 hours. 
Over 100 firefighters from 40 companies responded and worked the greater alarm fire, with rapid fire control attained.
Construction sites, especially those with exposed phased wood framing pose significant operational challenges and demands. First arriving response companies and command must quickly determine the size and magnitude of any rapidly advancing fire and efficiency determine an aggressive action plan that must be deployed rapidly while immediately considering the need for additional resources.
Normally, offensive strategic and tactical measures are highly ineffective due to the need to place operating companies in advance positions that may have high risk parameters subjecting companies to unacceptable safety risks.
The need for rapid and highly mobile hose line placement that must be sized appropriately with flow and delivery for the fire magnitude precludes hand line placement and results in the need to place portable monitors, deck monitors and elevated master streams into operation.
Safety and accountability are high priorities at multiple alarm incidents involving a construction site.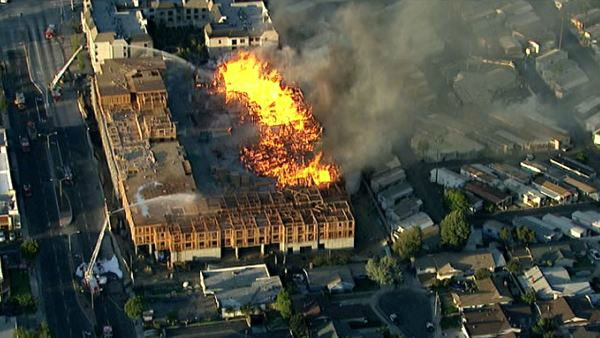 The blaze was raging out of control when the first fire units arrived about three minutes after the incident was reported, officials said. The first-in company requesed additonal alarms due to the projected fast movement of the fire and its intensity.
The three-story structure had more than 100 units and was being framed. The large volume of wood, coupled with the open spaces, allowed wind to blow through the structure and stoke the blaze, officials said. That radiated heat combined with wind gusts sent the fire into a nearby mobile home park. More than 139 mobile homes were evacuated. At least 10 homes in the park were damaged by flames.
The entire 139-unit mobile home park was evacuated after the fire and residents were not be allowed to return overnight. The other two senior living buildings on the property were also evacuated, but residents were being allowed back in late into the evening. 
The total damage estimate was $3.1 million, with $2.5 million for the senior living center and $600,000 for the mobile home park.Investigators have ruled out arson in a fire that burned through part of a multi-story residential complex under construction in Carson, according to later reports.
The Los Angeles County Fire Department and the sheriff's arson and explosives detail determined that the fire was accidental, although an exact cause will not be available, probably for several weeks, per the sheriff's headquarters bureau.
 The construction site which was part of a planned 150-unit luxury apartment building was set to open July 2012.
Related Photos
Firefighing operations at the Carson apartment building View all 30 photos
The cause of the fire was under investigations. See photos of firefighters battling the blaze in Carson.
The Los Angeles Times, Reports  HERE.
KABC-TV has additional video and details HERE.  
Fireground photo gallery HERE.
Fire Engulfs Carson Construction Site: MyFoxLA.com
Some Highlighted Operational Considerations (not inclusive)
Pre-Fire Plan Large Construction Projects
Understand the various Phases to a Construction Project and how they affect fire operations
Identify and train for nonconventional Strategic and Tactical operational actions
Ensure predetermined multiple alarm resources are identified and greater alarms are established
Train your Company and Command Officers to address Construction site fires
Maintain an appropriate risk profile balance with operational needs with personnel safety foremost
Clearly establish multiple Safety Offices and establish geographical resources within the incident management system for reconnaissance, communications, and oversight and focused safety monitoring
Know you water supply and system capabilities and limitations
Determine fire flow needs based upon construction phases, as these change over time as the building goes up. Match fire flow demands with resource availability (time of day gaps etc.)
Identify exposures (Physical structures and Civilians) and ensure they are calculated into the incident action plan at the right before there are identified needs or concerns
Companies shall maintain a conservative safety posture; this is not the time for overly aggressive firefighting, it is the time for smart firefighting that can be highly efficient
Always consider collapse zones: partial or complete. Stay out of them!
Respect the wind; it's not going to help you
Consider current and projected weather conditions in your operational and tactical plans and assignments
Did I already say: Pre-fire Planning?
Be calculated in the placement of your apparatus, especially in larger scale incidents that are defined under greater geographical divisions
The fire usually consumes the available fuel load rapidly; going from a Huge fire, to one that is sometimes much more manageable; just watch and control your exposures and degree of fire extension.  Don't help to make the fire even bigger through ineffective and dysfunctional command and control
Anticipate, Project, Plan and Engage
Respect the Fire: it's not going to play by the regular rules of combat fire suppression and engagment as in finished and enclosed structures and buildings.
Filed Under: Anatomy of Buildings • Featured • The Construction Site
Comments (0)
Leave a Reply
You must be logged in to post a comment.