By Christopher J. Naum, SFPE on Dec 28, 2011 with Comments 0
Buffalo Box 191 North Division & Grosvenor Streets; December 27, 1983
Buffalo Box 191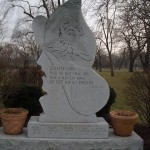 As Buffalo (NY) firefighters arrived at the scene of a reported propane leak in a three-story radiator warehouse (Type III Ordinary and Type IV Heavy Timber construction), a massive explosion occurred, killing five firefighters instantly and injuring nine others, three of them critically.
The force of the blast blew BFD Ladder 5′s tiller aerial 35 feet across the street into the front yard of a dwelling. BFD Engine 1′s pumper was also blown across the street with the captain and driver pinned in the cab with burning debris all around them. Engine 32′s engine was blown up against a warehouse across a side street and covered with rubble.
Previously posted on Thecompanyofficer.com HERE
Filed Under: Anatomy of Buildings • Featured • In the Streets • The Collapse Zone
Comments (0)
Leave a Reply
You must be logged in to post a comment.