By Christopher J. Naum, SFPE on Jan 29, 2011 with Comments 0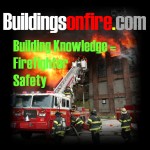 Commercial 2-11 Fire Chicago (IL)
Chicago 2-11 fire at 1896 Milwaukee, 1 story commercial…1 snorkel and 1 tower used.
2-11 alarm on Wednesday at 1896 Milwaukee Avenue in Chicago, Illinois. Video is by Steve Redick. Click here to see Steve's Chicago Fire Department photos and to buy his books.
The alarm was struck out at 11:25 p.m., Fire Department spokesman Kevin MacGregor said, but personnel remained on the scene for cleanup and investigation.

While fire officials believe the blaze was concentrated in the rear of the unused factory building, fire crews were cautious battling the fire because of the lightweight construction of the building, MacGregor said.

Firefighters had trained their hoses on the rear of the building and battled the fire defensively, MacGregor said, and kept the flames from spreading to other buildings.

The building apparently housed a couple or businesses, MacGregor said. A sign outside the building said "Eurosonic Blinds and Shutters."  

Click the image to see more of Steve Redick's photos from the fire.
Filed Under: In the Streets • Multi-Media Center • Training Division • Videos
Comments (0)
Leave a Reply
You must be logged in to post a comment.