By Christopher J. Naum, SFPE on Jun 22, 2011 with Comments 0
During the last quater of 2010 and leading well into the second quarter of 2011 there has been a significant emerging trend developing in basement fires, compromised floor systems and assemblies leading to collapse and numerous near-miss events, close calls and unfortunatly, line of duty deaths during fire operations.
If you've been paying attention to the various news and on the job reports these past number of months, you may have noticed the increasing numbers of emerging trend evident in near miss, close-calls resulting in maydays, RIT deployments and self-rescue resulting from floor compromise and floor collapse. The double line of duty deaths of two San Francisco (CA) Fire fighers while operating in a Terraced (Hillside construction) residential occupancy while operating below the base level diaphragm (upper street level access). (HERE)
In December 2010, I was doing some research and posting links related to the first one or two events on Buildingsonfire on Facebook, HERE, it became evident at the time that there was an immediate opportunity to get some learning's and insights out. If you have a chance head over to Facebook and link into Buildingsonfire and check out the incident links posted as well as some immediate report links. (Demember 2010 time frame)
In a coincidential posting on July 28, 2010, I posted on CommandSafety.com an interesting incident that I came across while preparing for a new post related to a near-miss event that occured in which a Camp Taylor (KY) firefighter survived a floor collapse that momentarily trapped him proximal to the seat of a working basement fire. Camp Taylor (FD) Captain Mark Long sustained second and third degree leg burns after falling through the floor of the burning home and subsequently being rescue by other fire department personnel after calling a mayday.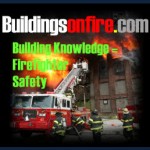 This event has all the ingrediants the the 2011 Safety Week focus on Surviving the Fire Ground and managing the Mayday. Little did I know that later, in February 2011, while participating in the National FireFighter Near-Miss Reporting System Stakeholders meeting in California, would I have the chance to hear Captain Long's story first hand, and then also have the opportunity to have him as a guest, sharing his story live on the Taking it to the Streets Radio program in February. (HERE)
Camp Taylor (FD) Captain Mark Long's near-miss and story of survival resonates with this year's theme of Surviving the Fire Ground- Firefighter, Fire Officer and Command Preparedness and Managing the Mayday and provides an opportunity to focus on the event in this, Day Five of the 2011 Fire/EMS Safety, Health and Surival Week activities. The details of Captain Long's story can be found on the National FireFighter Near Miss Reporting System web site (HERE) as well as in the June 2011 issue of Fire Engineering Magazine titled, Floor Collapse: A Survivors Story. Let me state upfront also the Captain Mark Long will be presenting the accounts of his near miss event and the lessons-learned at IAFC Fire-Rescue International Conference in Atlanta in August (HERE).
On July 25, 2010, Captain Michael Long of the Camp Taylor (Ky.) Fire Protection District fell through the floor of a house during a four-alarm fire and suffered severe burn injuries. On Aug. 30, 2010, Capt. Long submitted a near-miss report based on this event. The National Fire Fighter Near-Miss Reporting System is an anonymous and confidential reporting system; however, Capt. Long wanted to have his name associated with this report so that others would understand the value of sharing near-miss events. What follows is an excerpt from his report and excerpts from a recent phone interview. To read his full report, including an extensive lessons learned section, search by report number for report #10-1072 on the Search Reports page of www.firefighternearmiss.com.
"I made sure my crew was ready to enter, sounded the floor for stability and then crossedover the threshold, entering the structure. When I was approximately 5 feet inside the structure, I felt the floor start to give way. I turned toward the front door to try to bail out, and at the same time yelled at others to get out, when the floor system collapsed. This was no ordinary collapse. More than two-thirds of the first floor collapsed simultaneously. The living room, dining room, kitchen, bathroom and foyer all fell at once. "When the collapse happened, I was the only one who fell into the basement, right into the heart of the fire. All I could see around me were flames.
I could not see the hole that I had fallen through. I could not see my fellow firefighters above me. All I could see was fire. I began to try to find something to use to climb back up with. Since I did not know what type of collapse had occurred, I just started clawing away at anything as I was trying to climb. During this time, my legs were burning.
Fire was burning up between my boots and my bunker pants. The pain was intense. My deputy chief was trying to put a line on me for protection, but the fire was extremely intense. He was lying on the porch with fire shooting out over his head. He stated he could occasionally see the top of my helmet and the reflective stripes on my coat sleeves.
By a bit of luck, a roof ladder was laying in the front yard that had just been taken off the roof after the completion of a ventilation operation.
My deputy chief directed the crew to put the ladder into the hole for my escape. "By this time, I was burned on my legs and struggling with exhaustion and the intense heat. I was screaming both from pain and due to fear. I could hear screaming coming from above, butwas unable to make out the majority of it. I finally heard the word "ladder" and then felt something across my back. Once they got the ladder into the basement, I had to get around to it. I still could not see anything but fire, so this was all by feel. As I started up the ladder, I got two rungs up, reached for the third rung, and lost my grip and fell back into the basement landing on my back. I was so exhausted that I started making my peace with God that this was where I was going to die.
For the full excerpt from Captain Long's near miss report go to the NFF Near Miss Reporting Site and Resource Link, HERE
Incident Lessons Learned from Captain Long:
Train as if it is real. Train, train, train, and then train some more. Take advantage of every opportunity to train. The better we are trained, the less our chance of injury. The training must be physically and mentally. Crews must focus on more hands-on scenario-based training that allows for problem solving. If crews are taught that the outcome to every scenario is static, they are not being encouraged to think. Every run is different; no single solution applies to every situation. Adaptations or decisions that are not in step with changing conditions can actually be disadvantageous. We must make the right decisions based on the correct interpretation of the environment and blend those observations with our knowledge, skills, and abilities to map a course of action that will lead us to a successful outcome. Read reality and come up with the best possible plan. In my situation, quick thinking and adapting to the problem that presented itself saved my life.
Mutual-aid training is a must. We must train more with our neighboring departments to improve operations. It is occasionally difficult to work in situations where you do not really know with whom you will be working or where the command structure and tactics differ from those of your department. We all learn from the same book; however, the interpretations and tactics differ from person to person and department to department. I am not saying anyone is right or wrong in the way they do things—we all just need to do a better job of understanding that there is more than one way to get the job done.
We cannot know exactly how everyone on an emergency scene will perform because each person has a different interpretation of his surroundings and role in the system. Standard operating guidelines (SOGs) can assist in this area, but SOGs rely on perceptions and interpretations by individuals to be implemented as intended. Accidents often happen because everyone has a unique perspective on the environment, and each makes different decisions based on their perception.
We must perceive the environment correctly to ensure we make the right move. If these actions are not communicated and coordinated in the intricate system that is the fireground, accidents will be the inevitable and regrettable results. Training and frequent reviewing of SOGs are vital to our safety.
Risk assessment. Sounding the floor prior to entry is not always a good indicator of the floor's stability. Less than two minutes before I made entry, there were three other firefighters, at least the same weight as I, in the same area where the collapse occurred. Everything changed in a very short time. There was no warning. Adkins told me at the hospital that all he heard was a "whoosh" sound when the floor collapsed. Then I disappeared. Within two minutes, the floor assembly went from being able to sustain a live load of at least 900 pounds in that area (accounting for gear, equipment, SCBA, and so on) to collapsing with about a 300-pound load, and I was close to a load-bearing wall. A good way to evaluate risk vs. gain is to get the most accurate report on burn time as possible to help determine structural integrity.
Rapid intervention. RIT is a critical fireground benchmark and is very important for safety, but it would have been ineffective in this situation. Had my crew not reacted the way they did immediately, I would not have been able to last long enough to wait for the RIT. In the time it would have taken for the RIT to gear up, come up with a plan, and enter, I would have died. The stars aligned in my favor that night. The person calling the Mayday or a nearby crew often mitigates personnel emergencies. My crew was able to act decisively at the correct time, and I am alive because of it. It is important to remember that a large percentage of Maydays are mitigated by the crew to which the lost firefighter is assigned or a nearby crew. RIT deployments account for a small number of rescues; we must always be alert and ready for the "incident within the incident."
Manage your emotional response. From a personal standpoint, you must rely on your training and try not to panic. Know your equipment and procedures well. I did panic, but I was still able to keep myself together enough to know not to leave the area since I had been told that the stairs had burned away. Keeping my SCBA on, resisting the emotional reaction to remove my mask because of claustrophobia, was a huge factor in my survival. If I had tried to find another way out, my crew could not have gotten to me with the ladder. Had I removed my mask, the story would have ended quite differently. When I teach, I try to train as if it is the real thing. Never take a run for granted. Always expect the worst; you will be better prepared to deal with the unexpected.
If we continually study accident reports and learn from them, the likelihood of being surprised will be diminished. Peter Leschak writes in Ghosts of the Fireground: "In fire and other emergency operations, you must not only tolerate uncertainty; you must savor it, or you won't last long. The most efficient preparation is a general mental, physical, and professional readiness nurtured over years of training and experience. You live to live. Preparing is itself an activity, and action is preparation."
Talk about it. Critical incident stress debriefing (CISD) is important for ensuring that personnel from all departments on scene are taken care of emotionally. CISD needs to extend beyond just one or two briefings. Personnel involved in a highly emotional event must be given the opportunity to speak to a trained CISD team member early and be given as much time as is needed to work through their issue. Some firefighters have a macho attitude and try to deal with their emotions on their own, or maybe they don't deal with them at all. Others self-medicate with alcohol or, worse, these difficult emotional events are allowed to fester with no relief. People should be accepting of those who deal with issues up front and tell their stories. Telling these stories makes us better and helps to keep us safe. This reduces the possibility of "snapping" because you have too much pent-up emotion.
My fellow firefighters are still affected by this event, even those who were not there. Department personnel must be open-minded and receptive to the fact that emotional events will affect your performance and your personal life and that it is acceptable to be open and deal with them. When difficult emotional situations present themselves, members should attempt to deal with them as soon as possible.
Know what is possible and what is not. Know the experience level of your crew. Going into a bad situation with a crew that may not have exposure to a lot of different situations or that you aren't that familiar with could make operations more difficult. I had everything from a 30-year veteran to a one-year recruit, so the experience level was all across the board. I knew that the situation we were going into was getting worse and required quick action, so I took the lead to ensure that the operation would be completed as quickly as possible. I knew my deputy chief would be watching us to ensure things were proceeding safely. I knew my crew could get the job done; however, this was an operation that is not often practiced and I wanted to make sure it was done correctly. I will not send my crew into an area that I am not comfortable going into. The more you train and the more people you can train with, the better you will understand your capabilities.
Listen or download the special interview I had with Captain Mike Long as well as
Taking it to the StreetsTM is a monthly radio show featured on BlogTalk Radio and is hosted by nationally renowned fire service leader Christopher Naum, a 36-year fire service veteran and highly regarded national instructor, author, lecturer and fire officer and the distinguished leading national authority on building construction and fire ground operations. Taking it to the StreetsTM is a Buildingsonfire.com Series and FireFighternetcast.com Production, © 2011 All Rights Reserved
Taking it to the Streets: Near Miss Reporting and One Captain's Close Call
Podcast: Play in new window | Download
The progam was taped from the Live Broadcast on March 16th at 9pm EST
Taking it to the Streets: Near Miss Reporting and One Captain's Close Call
On Your Street, In Your City, Across the Country, Around the WorldTM
The line-up of Program guests included, Lt. Steve Mormino, FDNY (ret), Captain CJ Haberkorn Denver (CO) Fire Department and Special Guest Captain Michael Long, Camp Taylor (KY) Fire Protection District.
Grab a cup of coffee and sit down for a special two part, two hour program with Taking it to the Streets on Firefighernetcast.com where we'll be discussing the National Near-Miss Reporting System and the untapped resources that the program and system provides with Christopher Naum and this outstanding group of fire service leaders. The second part of the program will dedicated to the personal account of Captain Long's Close Call event from July 25, 2010 (NMR #10-1072) when a catastrophic floor collapse at a residential occupancy plunged him into a fire involved basement.
Check out the latest downloads of recent programs in the archives by visiting Taking it to the Street's webpage on Firefighternetcast.com or for program insights at CommandSafety.com.
Firefighternetcast.com HERE
Buildingsonfire.com, HERE
Taking it to the StreetsTM, radio program hosted by highly regarded national instructor, author, lecturer and fire officer Christopher Naum, continues to provide provocative insights and dynamic discussions with leading national fire service leaders and guests on important issues affecting the American Fire Service with applications internationally within the tradition and brotherhood of the Fire Service.
Taking it to the StreetsTM, is a Buildingsonfire.com Series and Firefighter Netcast.com Production, in affiliation with the Command Institute
National Fire Fighter Near Miss Reporting System's Support for the 2011 Safety Week
Don't forget to go to the National Firefighter Near Miss Reporting System for number of exceptional training aids, resources, PPT and more. NFFNMRS, HERE
Here are some of the National Firefighter Near Miss Reporting System Produced 2011 Safety Week Products
 
File Title
File Size
File Description
176 KB
A powerpoint presentation about situational awareness, planning, size-up, and defensive operations
176 KB
A powerpoint presentation about personal safety equipment, communications, and accountability systems
176 KB
A powerpoint presentation about fire fighter expectations of command.
176 KB
A powerpoint presentation about self survival skills at a mayday.
176 KB
A powerpoint presentation about self survival procedures.
176 KB
A grouped report about situational awareness, planning, size-up, and defensive operations
176 KB
A grouped report about self survival procedures
176 KB
A grouped report about personal safety equipment, communications, and accountability systems
In the meantime here are some links I pulled together that you should take the time to read and share with your companies, personnel and staff…..
This seems like a good time to have a ten minute drill on these events as Operating Experience (OE) on floor systems and operational safety, calling or commanding the mayday.
Or take some time to visit the The IAFF Fire Ground Survival Program (FGS)site which has the most comprehensive survival-skills and mayday-prevention program currently available and is open to all members of the fire service. Incorporating federal regulations, proven incident-management best practices and survival techniques from leaders in the field, and real case studies from experienced fire fighters, FGS aims to educate all fire fighters to be prepared if the unfortunate happens. (Day One: Are you ready, HERE)
Self-Survival Procedures
FGS Online Program Chapter 3
To improve survivability in a Mayday situation, a fire fighter must know how to alert rescuers to his or her location and perform self-survival techniques. Through the study of fire fighter fatalities, NIOSH has identified specific actions fire fighters can take to help save themselves. Variations of this same NIOSH recommendation have appeared in numerous fire fighter fatality reports. These recommendations were used to create a self survival procedure that is easy to remember using a mnemonic (GRAB LIVES). Following these steps increases the likelihood of the rescuers finding and assisting the fire fighter to safety.
When a fire captain died when trapped by partial roof collapse in a vacant house fire in Texas, NIOSH recommended in report number F2005-09 that trapped fire fighters should:
First, transmit a distress signal while they still have the capability and sufficient air.

Next, manually activate their PASS device. To conserve air while waiting to be rescued, try to stay calm and avoid unnecessary physical activity.

If not in immediate danger, remain in one place to help rescuers locate them.

Survey their surroundings to get their bearings and determine potential escape routes.

Stay in radio contact with the IC and other rescuers.

Attract attention by maximizing the sound of their PASS device (e.g., by pointing it in an open direction); pointing their flashlight toward the ceiling or moving it around; and using a tool to make tapping noises on the floor or wall.
Self-Survival Skills
Disentanglement Maneuvers
Fires inside an enclosed structure create a mess for fire fighters operating on the floor. Fire fighters often encounter debris that has fallen off shelves, and ceiling and wall fixtures that have burned and are left hanging to the floor. These hazards, coupled with the mess a fire fighter creates when searching for victims in smoky environments, can create egress problems for a fire fighter.
As fire burns draperies, blinds, lighting fixtures, computer wiring, and HVAC ducting, the possibility of encountering an entanglement hazard increases. The overhead ducting of the HVAC system contains wires that give the ducting its stability.
If a fire breaches the ceiling and burns the ducting, the wires within the ducting fall to the floor. These wires can cause a dangerous entanglement hazard to fire fighters operating on the floor. Fire fighters must anticipate these hazards and have a plan to follow when egress is cut off.
NIOSH Alert: Preventing Injuries and Deaths of Fire Fighters
Fire Fighter Expectations of Command
FGS Online Program Chapter 5
A discussion of what command must communicate to the distressed fire fighter, dispatch, the RIT group supervisor and all others assigned to the incident to assure a successful rescue.
Here are Some Mission Critical Reference Links for Operational Insights and Operating Experience (OE) to support Your Training and Operational Needs not only this week, but through the entire year.
Here are some Safety Considerations related to Residential Occupancies (non-inclusive) for Operations at Basement Fires that will support fireground operational safety:
Conduct a thorough fire size-up and communicate the findings to all personnel on-scene before entering the building.
Conduct an assessment of the Building Profile ( building construction type, structural assembly systems and features and age) and assesss fire behavior and intensity levels.
Ensure an adequte Risk Assessement is conducted and that Risk versus Gain is determined
Maintain situational awareness throughout the tactical deployment of crews within the interior of the structure
Conduct a 360 degree perimeter assesement when feasible to determine access and egress points, fire location and travel and other mission critical operational perameters.
Incident commanders and company officers should be trained and experienced in structure fire size up to avoid putting fire fighters at unneeded risk of working above fire-damaged floors.
Do not enter a structure, room, or area when fire is suspected to be directly beneath the floor or area where fire fighters would be operating, or if the location of the fire is unknown.
Never assume structural safety of any floor (regardless of the construction) having a significant fire under it.
Conduct pre-incident planning inspections during the construction phase to identify the type of floor construction.
If pre-planning is not conducted, assume residential construction and small commercial buildings built since the early 1990s may contain engineered wood I-joists.
Report construction deficiencies noted during preplanning to local building code officials. For example, engineered wood floor joists should only be modified per manufacturer specifications—usually limited to cutting to length and removing pre–cut knockouts for utility access. Report damaged or cut chords or webs to building officials.
Develop, enforce, and follow standard operating procedures (SOPs) on how to size up and combat fires safely in buildings of all construction types. Rapid intervention teams (RIT) should include a portable ladder with their RIT equipment when deployed at basement fires.
Ensure Time Compression is considered: Ensure Command has the ability to monitor progress or elapsed incident time and adjusts strategic and tactical plans accordingly and in a time effective manner.
Provide training on identifying signs of weakened floor systems (soft or spongy feel, heat transmitted through floor, downward bowing, etc.).
Make fire fighters aware that all floor types can fail with little or no warning.
Use a thermal imaging camera to help locate fires burning below or within floor systems, but recognize that the camera cannot be relied upon to assess the strength or safety of the floor. (Refer to the recent UL Test Data and Operational Safety Considerations "Structural Stability of Engineered Lumber in Fire Conditions" available at http://www.uluniversity.us/ )
Fire fighters should be trained on the use of thermal imaging cameras, including limitations and difficulties in detecting fire burning below floor systems. (See reference to UL above)
Immediately evacuate and, if possible, use alternate exit routes when floor systems directly beneath the floor where fire fighters would be operating are weakened by fire.
Use defensive overhaul procedures after fire extinguishment in structures containing fire-damaged floor systems of all types.
Consider becoming active in the building code process and influence requirements for fire resistance of floor and ceiling systems to further fire fighter safety and health.
Ensure RIT personnel area staged and have complete a site assessment of the building and occupany upon thier arrival and set-up
Ensure that a rapid intervention team (RIT) is on the scene as part of the first alarm and in position to provide immediate assistance prior to crews entering a hazardous environment
Here's some screen shots from Buildingsonfire on Facebook. Go HERE or follow the link at the left column. Join the growing list of over 3900 fans with Buildingsonfire on Facebook and Buildingsonfire.com
Filed Under: BuildingsonFire • In the Streets • Safety & Survival
Comments (0)
Leave a Reply
You must be logged in to post a comment.